A messy begining
Jar Jar announced the task; we cleared the room, and were instantly ready to capture every thing that would happen during this challenge.
Preparing the room was not without it's ups and downs. First off Number 13 lost the key to the room, so we search high and low for the key, and eventually it turned up in the back pocket of his overalls (for some reason he had them on backwards, don't ask me why). Unfortunately this discovery came too late for Number 6 who has now bobbed for keys in paint cans for no reason.
With the door unlocked and the materials safely inside, we began to arrange everything. That is to say that everything was placed at equal distances away from everything else and the room resembled an Arts and Crafts shop on first inspection. It was when Number 2 pointed this out that the order was sent out and everyone started to move the nearest object a small distance in any direction. This resulted in the room looking like a very untidy Arts and Crafts shop, but it would have to do.
We folded the ladders and placed the finishing coat of quick dry paint on the walls, and started to file out of the room.
"... hassen setten up an art room. Wesa have clay..." Jar Jar was about to let the contestants in.
Number 9 in his rush to fix a small hole in the room had just picked up his can of orange paint (why we had orange paint in a white washed room I have no idea, perhaps Number 9 wanted a feature wall?) and was hurrying towards the door. Then he slipped on a piece of wet clay and fell down sending the paint splashing onto the wall in front of him.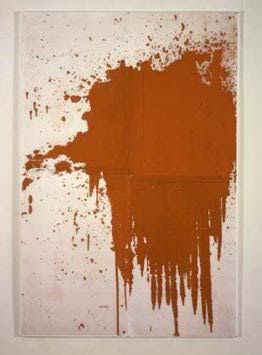 He picked himself up, and hurriedly mopped up the spilt paint from the floor and hurried out the door.
But not before writing a quick message in the paint.